Project: Establishing a cleaning business

Starting point in Germany: Munich

His mission: Creating workplaces and introducing modern hygiene standards

Return: Autumn 2020

Current status:
Fundraising
In October 2020, Doua Thiam returned to the Senegalese capital Dakar. He had lived in Germany for 30 years. During his career, he gained lots of valuable experience. He worked in hotel businesses, solar technology and in a company for janitorial services. Most recently, he led a small cleaning business with ambitious client orders. His clients were very content with his services. For a long time, he considered building an industrial cleaning business in his home country of Senegal, where he could introduce modern hygiene standards. He also wants to train co-workers and create workplaces that are badly needed in Senegal.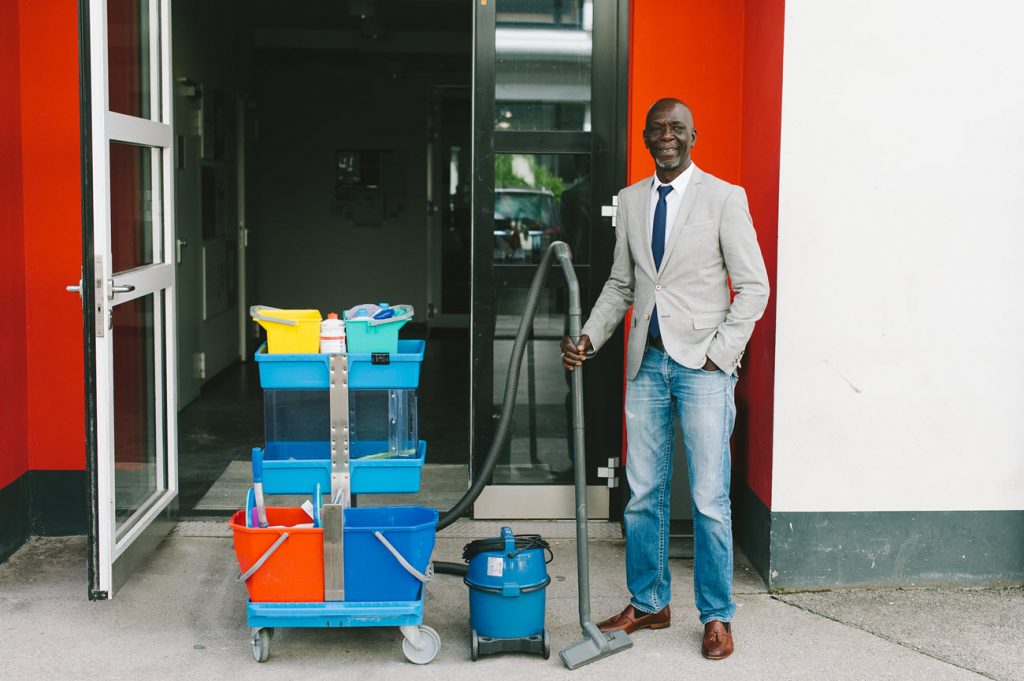 Carpet cleaning at the mosque
Squeaky clean carpets in the mosque
Doua really did a good job! Not only did he submit all of his applications to companies and institutions, he also has been put on the list of service providers by some of them. Apart from that, he kept his eyes open for new business fields. On impulse he had the idea to offer carpet cleaning at mosques. He was well prepared for this, for he had brought vacuum cleaners and a carpet cleaning machine from Germany as well as some carpet shampoo.
The Imam was pleased about the offer and recommended Doua to his colleagues. We hope that  Doua will be able to expand this new business field in a successful way.
Now, quick action was needed. The first orders were just around the corner and the transportation issue hadn't been solved yet. After some discussions and thanks to a generous donation, we gathered the funds for three-quarters of the needed delivery van and financed the rest in advance. Doua could purchase his car and order the stickers with his business ad. Now, the first appointments could be arranged, cleaning devices and products could be loaded with just enough space for Doua's assistant. We wish you a safe journey, Doua, and steady nerves for all the traffic jams in Dakar.
The applications for next year have been sent
Doua has delivered letters of application to several companies, banks and institutions in person. From January/February 2021, annual contracts are being awarded in Senegal. Doua has already received the first positive reactions. He tells us it looks all "promettant" – promising.
The training for his cleaning personnel is planned for early January. In this way, 32 of his young applicants will be able to enjoy a training for free. Doua managed to get the GIZ on board, which will offer rooms as well as help with the development of the training concept. For the practical training, Doua has found a hotel for everyone to clean thoroughly from top to bottom.
Everything runs smoothly so far. However, the next obstacle will be the acquisition of a delivery van to transport cleaning carts, cleaning utensils and products. For this, he needs your support. The car will cost 4000 €, for which we are currently raising funds.
Finally, the day of farewell had arrived. On October 3rd, Doua flew back to his home country of Senegal, which he had left 30 years before. First, however, he had to say goodbye to Germany. On 27th September, Doua travelled from Munich to Prien and attended the Protestant church service, led by pastor Wackerbarth who used this occasion to issue a travel blessing for Doua.
Doua has big plans for Senegal, which he pursues determinately for years. He wants to establish a cleaning business in Dakar, train new co-workers, introduce modern hygiene standards and create new workplaces.
The odds are in his favour, since an ambitious building project next to Dakar is on its way just now: Diamniadio Lake City. A second modern city aimed to relieve the over-crowded Dakar. Besides, Doua has been to Senegal time and time again over the years to make new contacts there.
He is most certainly well-prepared as he has led a cleaning business in Munich for many years. In order to start anew in Africa, he developed a business plan together with Social Impact. Hats and T-shirts as well as business cards with his logo and the company's address in Dakar are already in place and wait for him in his old home country.
Almost a week to his departure to Senegal, Doua said goodbye to his friends and supporters from Vision Yamalé. After the service, Helke and he went on a tour to the Herreninsel isle. Afterwards, Helke invited everyone to her home for coffee and cake. Assitan Soumare, a doctor and author from Mali, who studied in Germany, also participated via video chat as did Nuria, a Spanish student from Munich and Ibou from Senegal. This way, Doua was able to make new contacts with supporters of our association from Mali and Senegal. They helped him with advice and useful addresses.
After the subsequent dinner, Doua gave a farewell speech in which he thanked everyone for their support along the way.